Te Kakano underway
Posted: 21/05/16
Work has begun on Te Kakano (The Seed) in Whangarei's Town Basin!
This is the very first phase of the full Hundertwasser Art Centre with Wairau Maori Art Gallery build and it's so exciting to be finally underway.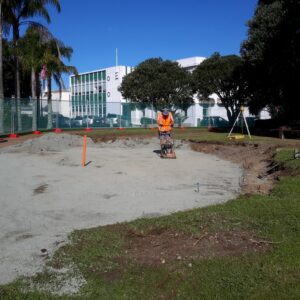 This picture shows work on levelling and prepping the site for a thin layer of concrete called a blinding layer to be placed on the ground so that they can accurately mark out all the key points to this complex koru shape. The building of Te Kakano will take approx. 16 weeks, so it will be ready to inspire every visitor in spring.
To mark this historic first stage of the whole project, please click on donate so we can start on the main building soon after this one is completed.