June is Hundertwasser Awareness Month!
Posted: 21/05/16
Help us celebrate this wonderful artist, and his incredible gift to our city with the inaugural Hundertwasser Awareness Month! We have reached significant project and funding milestones for the Hundertwasser Art Centre with Wairau Maori Art Gallery, and now it is time for our city to celebrate.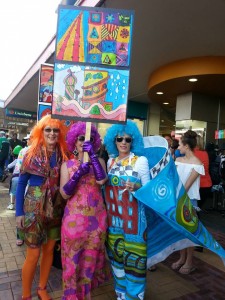 The entire community is invited to show their support and help make this incredible project happen.
A full list of events will be announced soon, with support from local bars, restaurants and cafes, hairdressers, floral artists, fine artists, schools and more – all keen to participate and celebrate the coming of Hundertwasser to our city.
One of the best ways to acknowledge Hundertwasser's gift to our city is to celebrate the man himself.
His art is distinctly unique and colourful. Did you know he is regarded as one of the Masters of Modern Art?
He had a deep love of nature and its preservation and conservation. Did you know he planted several thousand trees to reforest his land at Kaurinui?
His architectural doctorings are world-renowned. Did you know our HAC will be the last remaining major work of his in the world and the only one in the Southern Hemisphere?
Many supporters are designing special Hundertwasser inspired costumes, artworks, cocktails, cakes, shop windows… so this is your call to get ready and get involved.
For the latest news, go to our Facebook pages, Whangarei Loves Hundertwasser, Hundertwasser HQ and Colour Our City, and our website, Yes Whangarei.
You can bring us one step closer to realising Hundertwasser's gift to us by donating to the project.
Now is your time to give. 
Donate and get involved today.