"For Love of Trees" art exhibition
Posted: 06/06/16
The Hundertwasser Awareness Month was kick-started on the 1st of June with the well visited opening of the art exhibition "For Love of Trees".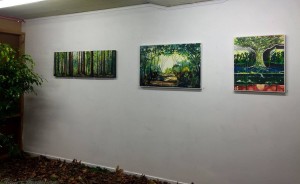 A stand out exhibition of the work of local artists Carolyn Radford, Jenny Bennett, Bridget Oakley-Stevens and Steve Moase who so obviously LOVE trees. On the night three works were already sold, which is not surprising if you see the quality of the presented art.
The exhibition is held downstairs at HQ and on until June 24th for Hundertwasser Month. The leaves on the ground are to set the scene. If you were thinking of donating to the project, this is such a great way to give because 50% of the sales go straight to the coffers. The four local artists present four very different ways of showing their love for trees.
Hundertwasser HQ is open Mon-Fri from 10.30am to 2.30pm and on Saturday from 10am to 1pm.