Sir Michael Hill kick starts local fundraising drive
Posted: 09/06/16
Whangarei's Hundertwasser Month has made a terrific start with Michael Hill Jeweller's iconic founder pledging a generous amount of money toward the Hundertwasser Art Centre with Wairau Maori Art Gallery (HAC).
Sir M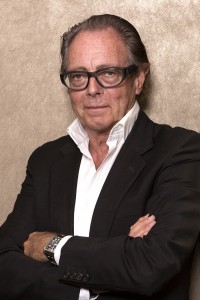 ichael's company's pledge helps bring the HAC closer to the $16.25m needed to complete the building. Currently the HAC has $10.3m in donations. The project team are now asking locals to do their bit. There are now easy and painless options for donating available on the yeswhangarei website with a new streamlined credit card facility making it even easier to give.
The Michael Hill Jeweller pledge leads the way for a month of giving.
Sir Michael told the project team he started his first store in Whangarei in 1979 and his family is rooted here. "I applaud the citizens of Whangarei and Northland who have the foresight and courage to take on the Hundertwasser project and build a building that will have international significance."
"Tourists will flock to Whangarei to see this unique building with its amazing collections of Maori art and Hundertwasser's unique art works. His connection to Northland and New Zealand makes the project especially important."  "It will put Whangarei and Northland firmly on the world map as a must-see tourist destination and bring in much needed cash and prosperity."
"It would be wonderful to see Whangarei flourish again. Good on you, Whangarei." Along with his company's generous donation, Sir Michael has joined forces with former Waitakere mayor Sir Bob Harvey and former Beca and CAA chairman Sir Ron Carter to form a working group to assist HAC in obtaining philanthropic funds.
"It is wonderful to have the likes of such well-respected New Zealanders on board with us," HAC project director Andrew Garratt said.
Sir Michael's support of art and culture from violin to golf to sculpture and installation art dates back to childhood. He began as an aspiring musician and watch maker before directing his creativity into jewellery. Michael Hill Jeweller now has 314 stores in NZ, Australia, Canada and the USA, and aims to operate 1,000 stores by 2022.