HAC PROJECT GETS LOTTERY WIN!
Posted: 15/06/16
The Lotteries Environment and Heritage Fund today announced it has granted $500,000 to the HUNDERTWASSER ART CENTRE with Wairau Mãori Art Gallery, a further welcome boost to the project bringing total funds raised to two thirds of the total needed.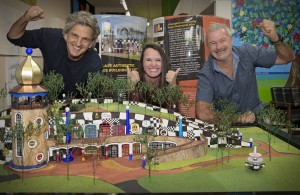 "It pushes all our funding to around the $10.9m mark of the total of $16.25m needed to build the centre," HAC Fundraising coordinator Helen Whittaker said. "This particular Lotteries fund is for community focused projects, indicating the grant acknowledges the community nature of the HAC. It gives the project further momentum. We are all thrilled!"
Prosper Northland Trust Chairman, Barry Trass agreed the funding helps to ratify the HAC. "This grant from Lotteries comes on top of the visionary $4m government grant in February. The project team really appreciates these grants because it shows faith in our project and a willingness to put big dollars behind that faith".
The award comes as the HAC project builds steam, with Hundertwasser Awareness Month celebrations now well underway for the month of June, involving fun events for the whole community. The start of construction of Te Kakano has also added excitement to the progress of the project.
Project Director, Andrew Garratt, adds "this project is all about community. Everyone working to make this happen is a volunteer. We can truly say we are of the community, for the community, by the community. This grant acknowledges this community focus and that is very affirming. We just need everyone who voted yes in the referendum to get behind the project and donate."
The project needs to raise a further $5.3m by the end of June 2017 for construction of the HAC to go ahead.