'Cathartic' Pledge Pushes Project Along
Posted: 08/05/16
A Whangarei widower who recently donated over $7000 in his wife's name toward the Hundertwasser Art Centre with Wairau Maori Art Gallery says the donation "is keeping her spirit alive."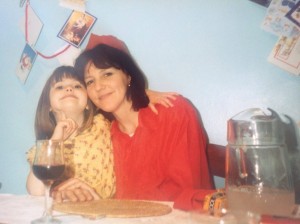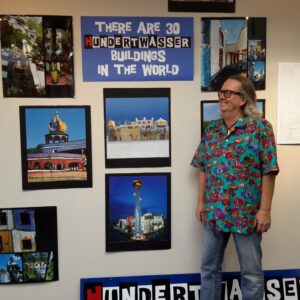 Alison Turner died suddenly at 57 while scaling Rangitoto with husband Huw on his birthday six years ago. Initially Huw Turner considered creating a scholarship to support a designer, in his wife's name.
But on Saturday April 23, Mr Turner instead gave $7200 from his wife's estate to the HAC project. Mr Turner said Alison, an actress and proprietor of Whangarei's iconic Alter Ego Costume Hire, had been an admirer of Friedensreich Hundertwasser for over 20 years.
Alison trained in the UK as a graphic designer, worked in stained glass and was a talented costume designer and maker. The Art N Tartan Wearable Arts Supreme Award trophy is named in her honour and sponsored by Huw.
"She loved colour, she loved shapes, she loved the boundary-breaking nature of [Hundertwasser's approach]," Mr Turner said.
"It feels good to get behind the project with our spare cash. Also it feels like a good way to honour her memory."
Mr Turner said Alison, who would be 64 this year, would have volunteered on the HAC project were she still alive. "Donating is the next best thing. I'll be getting involved in volunteering for her."
"Her spirit is out there, I know that. Her energy is around."
"The Hundertwasser Art Centre will be very cathartic."
Mr Turner, Head of English at Ruawai College, said Alison would have most loved the quirkiness of the HAC as well as the originality of the design.
Mr Turner said he expects the HAC to 'reinvent' Whangarei's position on the tourist trail in the same way Kawakawa was reinvented by its captivating public toilet.
"By the year 2020, I think the Art Centre will have been part of the transformation of Northland. It will give us a national as well as international profile. It will be a huge magnet."
"People will wonder what all the fuss was about and we'll say 'I told you so.'"
Alison's name will be printed on a bronze leaf in the foyer of the HAC as part of The Premier Donor Tree of Life scheme.
"Donor recognition is a big part of our fundraising," Prosper Northland trustee Jenny Hill said. "We love the thought of parents bringing their kids to see their family name on a wall, in or near, the HAC. We want locals to feel that they played a part in making this incredible project come to life. That's real community ownership "