TE KAKANO OPENS AND ALREADY MUCH LOVED
Posted: 22/10/16
Northland has a brand new iconic tourist attraction. Friday 21 October Te Kakano (the Seed) was officially opened at the Town Basin in Whangarei. A large crowd witnessed the cutting of the ribbon ceremony making Te Kakano, a stand-alone sculpture in the shape of a koru, now open to the public.
Te Kakano has been built as a test bed for all the tradesmen and artists who will work on the bigger Hundertwasser Art Centre with Wairau Maori Art Gallery (HAC) which will start next year if all funds are raised in time.   It cost just under $300,00 of privately raised funds and took 4 1/2months to complete.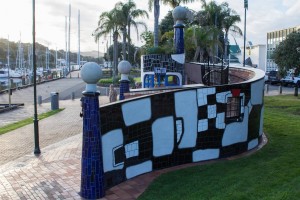 The construction of Te Kakano involved trialling all the elements of the big build:  mosaic work in the signature black and white checks, bespoke iron work, richly glazed ceramic columns and artistic use of bricks and terracotta pavers.  There is even a roof garden.
Te Kakano was designed by local architects Harris Butt and approved by the Hundertwasser Foundation in Vienna. Locals and tourists will be able to sit on a bench seat inside the lower spiral, climb up to the look out on the outer ramp, and go inside the inner room to see the ceramic columns.
With Hundertwasser's no straight lines philosophy, the tile and bricklayers have had to "unlearn" their skills and think differently.   Bruce Hancock was one of the tilers on the job tasked with doing the mosaics. "At first I was a bit unsure but as I got into the rhythm and flow of the 'no straight lines' idea, I started to relax and this made for a much better result and a very enjoyable experience."
 "The completion of Te Kakano is a significant milestone towards realising the vibrant HAC project," says Barry Trass, co-chair of Prosper Northland Trust which drives the fundraising for the bigger project. "When realized, the Hundertwasser architecture, alongside the Wairau Maori Art Gallery will add a major art attraction to New Zealand, making this a very exciting development for the city and the Northland region."
Funding is at 80% now with $3.25million still to raise by June next year for the bigger build to proceed.
"The project still needs people everywhere to give whatever they can to help make this community led project a reality", says Andrew Garratt, Project Director, " Te Kakano is an example of what a passionate community group can do.  We feel sure that when people see the quality and workmanship in Te Kakano, they will want to make sure the bigger build proceeds."