Dick Frizzell Prints Hundertwasser tribute to raise funds for art centre
Posted: 08/01/17
Celebrated New Zealand artist Dick Frizzell has produced a unique tribute to help with the effort to raise funds for the Hundertwasser Art Centre with Wairau Māori Art Gallery. The image entitled 'Hommage à Hundertwasser' puts a New Zealand twist to a painting that Hundertwasser did for an Austrian stamp in 1975. Frizzell's version has the words 'Whangarei Tiki' where the stamp says "Republik Österreich 4s".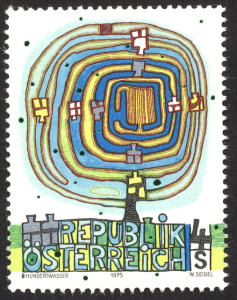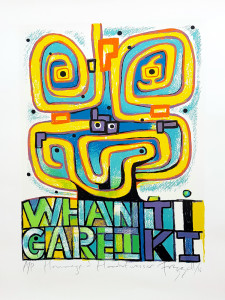 Frizzell says the limited edition screen print he produced specifically for the project combines everything that the project represents.  "The HAC project is all about Whangarei, Māori and Hundertwasser, so I wanted to produce an image that had all these elements in it using lively Hundertwasser colours", the artist said.

The edition is limited to 150 copies, is hand numbered, signed and dated by Frizzell himself. It is printed in Auckland  by top screen printers Artrite on a full sheet of Fabriano Artistico archival quality paper. It is priced at $1,150 with all proceeds going to the build.

Frizzell made the shortlist earlier this year for the New Zealander of the Year Award.  He is well known for his generosity in donating his art for good kiwi causes and obviously sees the HAC as contributing significantly to culture in this country.

It was Hundertwasser's express wish that the two galleries, the Hundertwasser and the Wairau, be housed under the same roof.  He felt it would be a great basis for conversation, co-operation and understanding between Pakeha and Maori with art as the subject.

The Wairau Māori Art Gallery Board agree:  "Image making by Pakeha of Māori has often been contentious.  While most accept Gottfried Lindauer's portrayals of our ancestors in the Māori paintings, others might have different views in relation to contemporary art practice by Pakeha artists. The HAC and WMAG thus provide a platform for these kinds of discussions".

The Wairau Māori Art Gallery will take up one floor of the Hundertwasser Art Centre, hosting a changing display of top quality established and emerging Māori artists. The board has close ties and support from Te Papa and Auckland Art Gallery as well as many leading Māori artists.

Art has been a major part of the project in many forms. During the lead up to the referendum locals painted fences, cars, kindergarten walls, letterboxes and murals to show their support for the project. During the fundraising phase a number of artists have produced and donated art-work for sale to raise funds for the project. Works by Emily Karaka, Billy Apple and Hundertwasser himself are also now available to purchase with more top NZ artists showing interest in joining the lineup.