FIREBIRDS ARE GO!!
Posted: 17/09/16
The Hundertwasser Art Centre with Wairau Maori Art Gallery project team has just launched a new donor acknowledgement scheme which it is calling Yes!Tiles. These hand inscribed tiles are being made by a local group of potters calling themselves The Firebirds.
The scheme is being trialled with a first small run of 30 tiles placed into the groundwork of Te Kakano where construction is well underway and due for completion at the end of September.
"Once all the funds have been raised for the big building, it is planned that many more of these handmade terracotta tiles will be prepared and placed into the courtyards and pathways of the HAC complex," said Jenny Hill, Yes!Tile co-ordinator. "We wanted to acknowledge the great support we have had from our community so decided these tiles were a unique way to showcase community pride in the project", said Ms. Hill.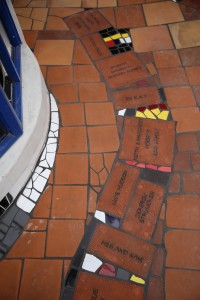 The team spent some time looking around NZ for potters to produce these individually inscribed tiles and were delighted when they found the perfect artisans right here in Whangarei. Calling themselves the Firebirds, these potters have produced the first 30 tiles for Te Kakano. Each tile takes about 1hour 40 minutes to make. They have lovely handmade touches on them like Hundertwasser inspired stamps and interesting background textures.
The names on these first Yes!Tiles are to acknowledge all the tradesmen and suppliers who donated time and goods to make Te Kakano possible. There is also a selection of private donation tiles many of them with children's names inscribed "This is the legacy and community pride aspect of the scheme which we think people will really love. Grandparents and parents will be able to take their young ones and show them their name and how together we all helped make it happen", Ms Hill added.
The Yes!Tiles are being made in 2 sizes:
Donations of $500 and over will be acknowledged with a 125mm X 250mm tile with a maximum of 15 characters inscribed.
Donations of $1000 or more will be acknowledged with a 250mm square tile with a maximum of 30 characters.
"Once all the funds are in and the project gets the green light, the team will start contacting everyone who has given unconditionally at this level to ask if they would like to be acknowledged with a Yes!Tile. Those donors on drip feeds will be acknowledged once their full donation is received and those on pledges once their donation becomes unconditional." said Ms Hill.