Brand New Billy Apple Hundertwasser Art Centre Tribute
The HAC project team is delighted to present for sale an original artwork by globally recognised conceptual artist Billy Apple. This unique work has been gifted to the project to raise funds for its realisation.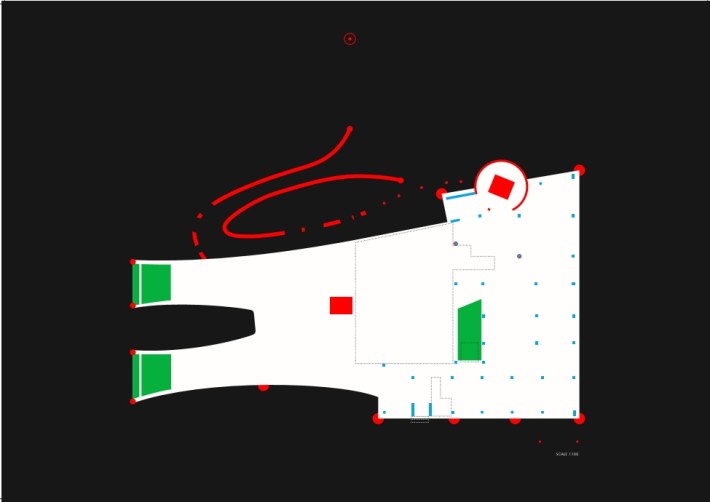 In donating this work, Apple says he both recognises and supports the significance of the HAC. For his generosity and vision, the team is extremely grateful.
The shape you see is a to-scale 'footprint' of the proposed art centre. The work is a 1:100 scale UV impregnated ink work on canvas. It measures 600 X 800mm and is priced at 'a dollar for every day of Hundertwasser's life' which comes to $25,634.
Entitled 'Hundertwasser Footprint', the work is an abstraction developed from Apple's careful analysis of the relevant construction drawings generated by the project. By distilling the essential elements of the new design, Apple has produced what he calls a 'Gallery Abstract'. This means that the work is integrally tied to the building it describes.
Various components of the build have been colour coded: the dotted white line marks out the existing building from 1923, the green patches designate the grassed areas and landscaping, blue signifies columns and wall structures that remain in situ from the existing 1965 addition, red squares are the footings of the new structure, and so on.
The canvas can be viewed at the offices of Henderson Reeves, Bank St, Whangarei. To enquire or purchase this unique work, please contact either Ian at IanReeves@hendersonreeves.co.nz 021343368 or Jenny Hill at jenny_hill@clear.net.nz 021907321.