All donations no matter how small are gratefully received. However, for our larger donors we have developed 4 donor recognition schemes to permanently acknowledge the people who have made the HAC a reality.
Our database is able to add up donations made in the same name so we can tell you when you are approaching the next level of acknowledgement.
Our Tree of Life
For unconditional donations of $100 or more, come into HQ (or on-line by request) and have your name added to the many now written in gold on this lovely painting by Bridget Oakley-Stevens. This work of art shows real community pride and will be placed on permanent public display once the HAC is built.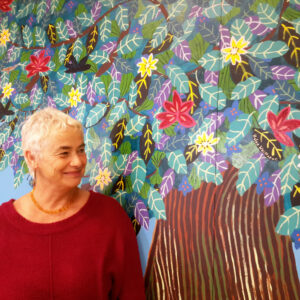 ---
Yes! Tiles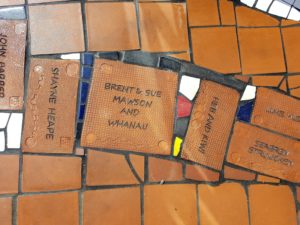 We are acknowledging donations of $500 and $1000 with two sizes of hand inscribed terracotta tiles. These are locally made by the Firebirds and each is handmade and unique. You can see the first batch of them in the groundwork of Te Kakano. Once all the funds are in, we intend to start making more to acknowledge those who have given at this level. These will be placed into the pathways and courtyards surrounding the main building. At this stage, all you have to do is give and we will contact you later with more Yes!Tile information.
---
Premier Donor Scheme
Inside the foyer of the HAC, we will be creating a mosaic Tree of Honour with different coloured leaves to recognise our major donors. The tree pictured is in Kunsthaus Vienna. We expect ours will be uniquely our own.
Bronze Leaf – $5,000
Silver Leaf – $10,000
Gold Leaf – $20,000
Platinum Leaf – $50,000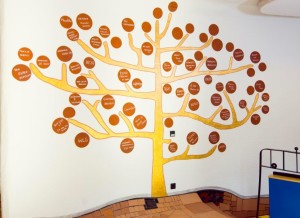 ---
Naming Rights
Naming rights are still available for several areas of the HAC like the Learning Centre and the Tower. For more information, please email hac@yeswhangarei.co.nz